Exhibiciones/ Exhibitions

Caribbean-yet-to-come
Novenario, MAC
Constant Storm, USF
Anarquía y dialéctica en el deseo, MAC
Whitney Biennial
Pana Projects, Casera
Las ideas, los otros y yo, Ateneo de La Laguna
Fotonoviembre
Relational Undercurrents, MOLAA
Watch your step, mind your head, ifa Galerie
Aterrizarás donde despegabas siempre, Diagonal
Inabordable / Unapproachable
Buscando a La Sombra, Teorética
Watch your step, mind your head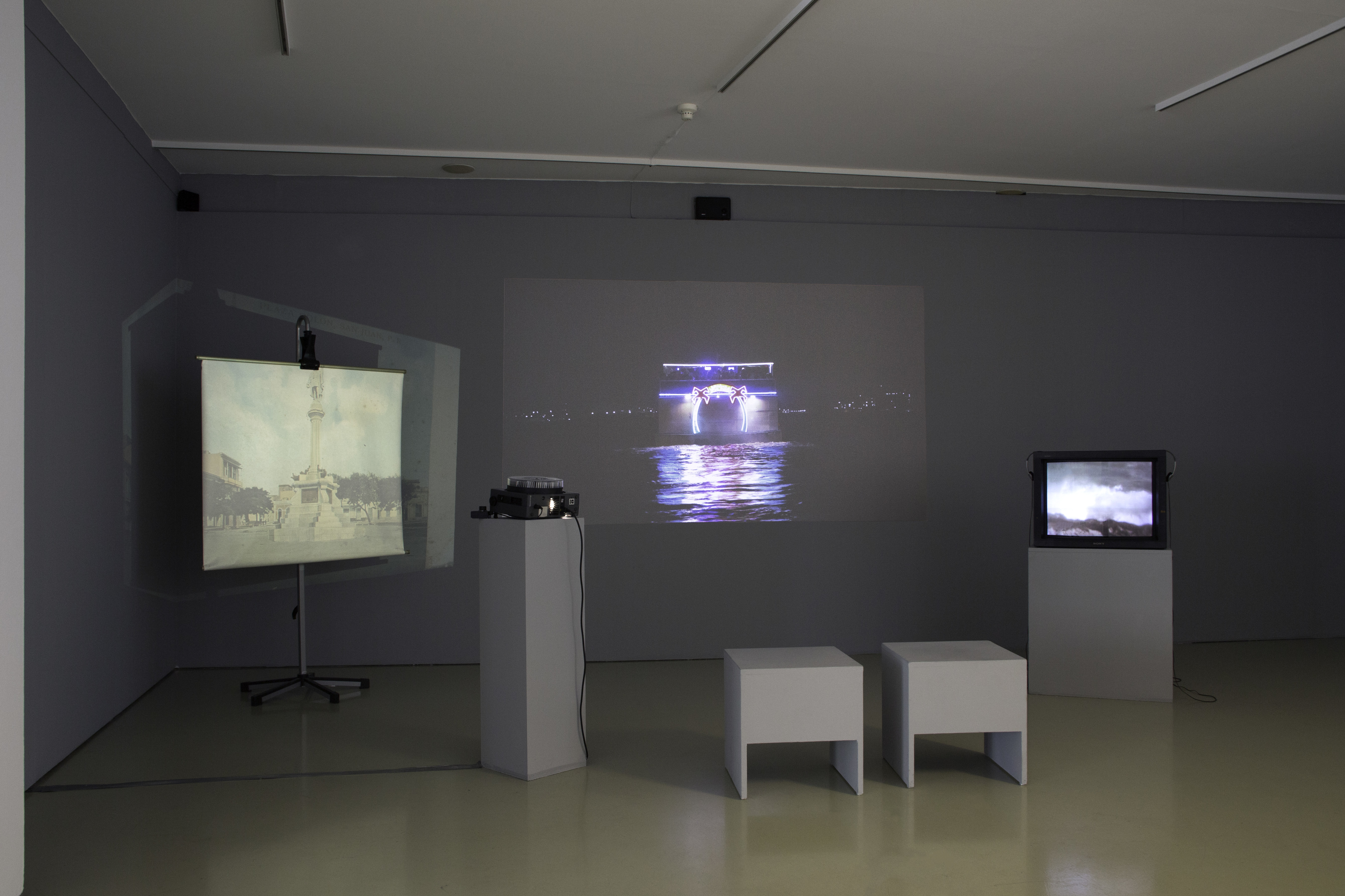 —
Watch your step / Mind your head
Irene de Andrés, Sofía Gallisá Muriente
curated by Marina Reyes Franco
part of Untie to Tie - On Colonial Legacies and Contemporary Societies
June 23 - September 17
ifa Galerie, Berlin
En
Watch your step / Mind your head
,
Irene de Andrés
y
Sofía Gallisá Muriente
presentan una selección de trabajos desarrollados en estrecha conversación entre 2015 y 2017, que ponderan la cuestión de quién construye el concepto de paraíso y quién lo consume más, según sus experiencias en la nación caribeña de Puerto Rico.Antigua colonia española, Puerto Rico es una "posesión" de Estados Unidos en el Caribe desde 1898. Otrora modelo del progreso estadounidense, Puerto Rico cayó en desgracia luego de que el colapso de la Unión Soviética volviera obsoleta su ubicación estratégica, y tras el establecimiento del libre comercio en la década de los noventa. Tras décadas de colapso económico progresivo, Puerto Rico tiene actualmente 123.000 millones de dólares en deuda. Desde septiembre de 2016, una junta de control fiscal establecida por EEUU supervisa la imposición de severas medidas de austeridad, mientras por otro lado favorece las leyes de paraísos fiscales y el turismo como vías para salir de la depresión.
En este contexto, Irene de Andrés y Sofía Gallisá Muriente trabajan conjuntamente para analizar cómo se han comercializado las diferencias culturales dentro de la nueva relación colonial que encarna la industria del turismo, particularmente a través de la creación y circulación de imágenes. El proceso que se inició con la colonización de las Américas por los europeos y las imágenes que circulaban a través de pinturas, grabados, fotografías, películas y conferencias con proyecciones de linterna mágica, está siendo complementado por la industria turística contemporánea y por videos producidos por el gobierno que literalmente venden el Caribe. Ambas artistas trabajan en fotografía, impresión, instalación y video, remezclando materiales originales con otros recolectados, como cortos documentales y videos de propaganda y de vacaciones tomados de diversos archivos oficiales y personales, así como de Internet. Trabajando dentro de los límites de la cultura urbana contemporánea, las artistas están influidas por múltiples canales mediáticos, y colaboran con músicos y DJs en varios videos para construir paisajes sonoros alternativos a las habituales narraciones tropicales.
Con el programa
Untie to Tie – Sobre legados coloniales y sociedades contemporáneas
, la
ifa-Galerie Berlin
invita a reflexionar sobre los impactos de los legados coloniales que continúan influyendo globalmente en las realidades contemporáneas y en la vida cotidiana. De marzo de 2017 a marzo de 2018, cuatro capítulos abordarán este tema a través de diferentes lentes: relación global, culturas urbanas, feminismo interseccional y un capítulo de cierre dedicado a disturbios y resistencia. La comisaria puertorriqueña
Marina Reyes Franco
es la primera becaria del programa
Curators in Residence
de
KfW Stiftung
en cooperación con el ifa (Institut für Auslandsbeziehungen). El programa ofrece a curadores promisorios de América Latina, África, Oriente Medio y Asia la oportunidad de pasar tres meses en Berlín, promoviendo así el intercambio intercultural y discursivo en la organización de exposiciones. El propósito de la residencia es aumentar la conciencia crítica de los discursos poscoloniales, así como fomentar el compromiso intelectual con el patrimonio cultural en relación con el arte contemporáneo.
Texto curatorial de Marina Reyes Franco en español en Artishock
Fotografías de la exhibición por Tomaschko.
︎
In "Watch your step / Mind your head" Irene de Andrés and Sofía Gallisá Muriente present a selection of works developed in close conversation between 2015 and 2017 that ponder the question of who constructs the concept of paradise and who consumes it the most, as experienced from the Caribbean nation of Puerto Rico. A former Spanish colony, Puerto Rico is a Caribbean "possession" of the United States since 1898. Once a beacon of American progress, Puerto Rico has experienced decades of progressive economic collapse, and is currently $123 billion dollars in debt. Since September 2016, a US-appointed fiscal control board has supervised the imposition of severe austerity measures, while at the same time favoring tax haven laws and the "visitor economy" as a way out of the depression.
Within this context, Irene de Andrés and Sofía Gallisá Muriente work in tandem to question how cultural differences are marketed within the new colonial relationship that the tourism industry embodies. The artists work in photography, print, installation and video formats, remixing original and sourced materials that include photographs, short documentaries, propaganda, and vacation videos from various official and personal archives, as well as the internet. Taking a cue from contemporary urban culture, the artists have collaborated in their videos with a local musician and a DJ to construct alternate soundscapes to the usual tropical narratives.
In their pieces, both artists take a look at the post military landscape of abandoned US Navy bases, monuments, advertisement campaigns, mid-20th century industrialization, and hotel construction. This exhibition has come together because of the artists' common interest in examining and contesting the visual economy of tourism and the representation of the Caribbean as constructed for tourists and investors. Through different strategies and methodologies, both artists question the narratives, images and tropes preserved in archives and other state propaganda, in order to expose the mechanisms that perpetuate them. These works strive to rid themselves of the colonizing gaze; these works are aware of how they're looked at.
Curator Marina Reyes Franco is the first grantholder of the programme "Curators in Residence" of KfW Stiftung in cooperation with ifa (Institut für Auslandsbeziehungen). The programme offers outstanding up-and-coming curators from Latin America, Africa, the Middle East and Asia the opportunity to spend three months in Berlin, thus promoting intercultural and discursive exchange in exhibition organizations. The purpose of the residency is to raise critical awareness of postcolonial discourses, as well as to encourage intellectual engagement with cultural heritage in relation to contemporary art. The grantholders curate exhibitions which are shown at ifa Gallery Berlin. Following an open call, Marina Reyes Franco has been selected by the jury: Elena Agudio, Julia Grosse, Marie-Hélène Gutberlet and Alya Sebti.
*Exhibition photos by Tomaschko